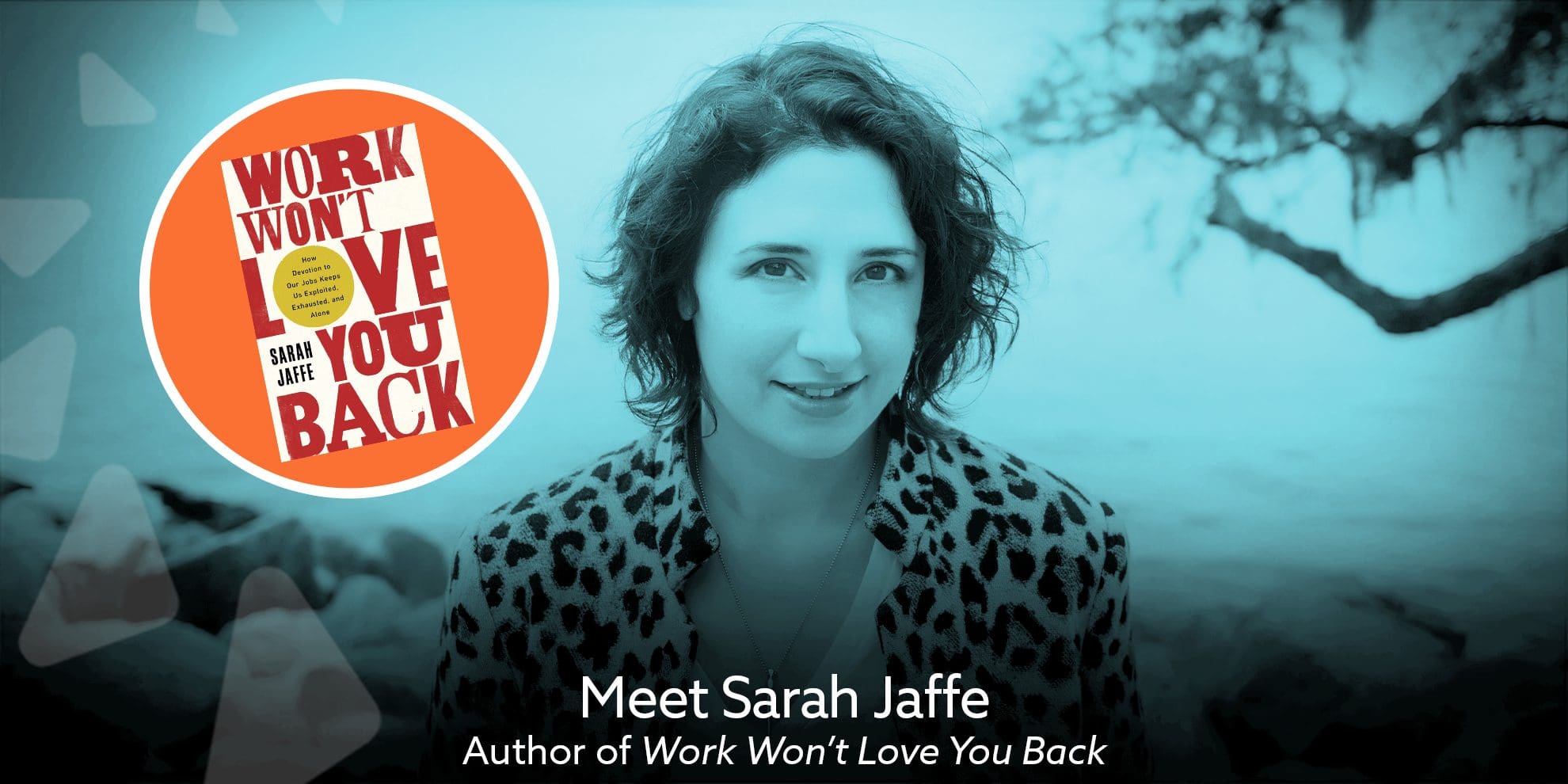 San Mateo County Libraries welcomes Sarah Jaffe, author of Work Won't Love You Back, on Wednesday, November 3 at 6:30 PM. Join us as Sarah Jaffe discusses her book and takes questions from the audience.

Jaffe—a leading voice on labor, inequality, and social movements—debunks the idea that work that you love is not really work, and dismantles the belief that some work should be done out of passion instead of pay. She shares of striking teachers who continue even as budget cuts increase class sizes and shrink resources and interns who are expected to fulfill the duties of salaried employees. She also talks about how athletes are required to carry socially conscious messages—often at the sacrifice of their bodies, their health, their identities outside of their brand, and for some, their careers. Jaffe argues that casting off the myth of a "labor of love" will empower us to work less, demand what our work is worth, and finally figure out what actually gives us joy, pleasure, and satisfaction. 
Browse our catalog to place a hold on Work Won't Love You Back and register in advance for our live virtual author event on November 3.  Purchase a signed copy of Sarah Jaffe's book through our Library Foundation.    
Praise for Sarah Jaffe 
Sarah Jaffe is a Type Media Center reporting fellow and an independent journalist covering the politics of power from the workplace to the streets. Her work has appeared in The New York Times, The Nation, the Guardian, the Washington Post, The New Republic, and the Atlantic, among others. Sarah is the author of Necessary Trouble: Americans in Revolt and co-host of Dissent magazine's Belabored podcast.
"Work Won't Love You Back brilliantly chronicles the transformation of work into a labor of love, demonstrating how this seemingly benign narrative is wreaking havoc on our lives, communities and planet. By pulling apart the myth that work is love, Jaffe shows us that we can reimagine futures built on care, rather than exploitation. A tremendous contribution." — Naomi Klein (On Fire: The Burning Case for a Green New Deal)   

"Sarah Jaffe charts a path through the most painful realities of working class life in the 21st century, taking readers on an eye-opening journey through a remarkably varied number of industries. It's an indispensable addition to labor journalism, labor history, and much more broadly, our understanding of what resistance looks like – and could look like – in these difficult times. It's part Barbara Ehrenreich, part Studs Terkel, and all Sarah Jaffe, one of the most unique voices writing today. Remember, 'the problem is not you, it's work itself.'" — Dave Zirin (A People's History of Sports in the United States)  

"Sassy and big-hearted, learned and astute, this chronicle of late capitalism warns against the expropriation of bodies, minds, and spirits when we confuse work with love. Through vivid portraits of service and creative workers—including home aids, interns, teachers, gamers, adjuncts and athletes—Sarah Jaffe more than indicts jobs that promise pleasure. She shows ordinary people fighting back for recognition, rights, and living wages. A stunning achievement!" — Eileen Boris, Hull Professor of Feminist Studies, University of California, Santa Barbara