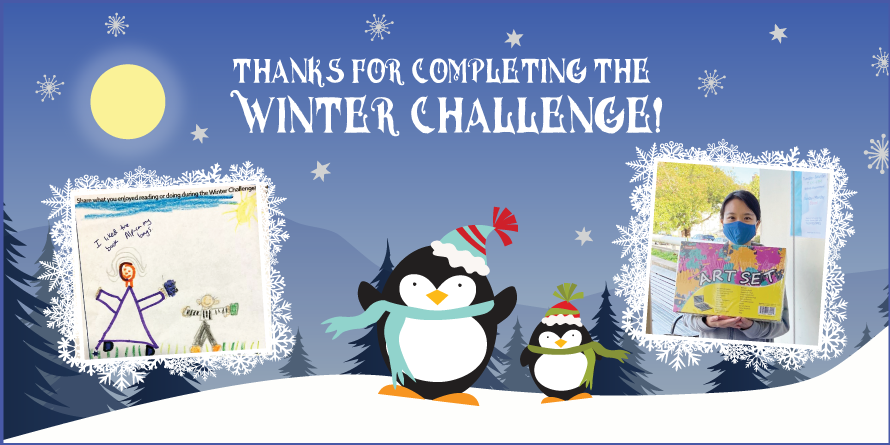 We had a blast with the Winter Challenge this year, and we can tell that all of you did too! We had 1,653 finisher forms from people all over the county who shared stories about reading books, participating in our events, and trying out new activities.
Congratulations to our winners! We selected winners from our 1,454 youth participants at all of our libraries who entered for an art kit, an engineering tinker kit, a Duplo set, and passes to the Asian Art Museum, opens a new window. Lucky winners from our 199 adult participants received their very own copy of The Forests of California by Obi Kaufman.
Here are just a few of the many wonderful pictures and comments we received. We were overwhelmed by the generous feedback, and by how many of you have made San Mateo County Libraries a part of your lives.


"I loved doing crafts with my grandchildren. Thank you for talking about Zoom etiquette and how to's for those of us less familiar with how it works. I also liked reading to my grandchildren."



"I loved finally getting the motivation to read my favorite book again. I have been so eager to read it, but just didn't have the chance while I'm in college. Now that I am on break, this challenge finally gave me the encouragement I needed to read that book again. And I enjoyed every minute of it, that I plan to even read another book that was my second favorite."


"Went on a hike at the beaches of Half Moon Bay to look for flora and fauna, inspired by the journaling classes I've attended via the SMCL online classes. Saw a red-tailed hawk, various sparrows, and poppies in December. Thank you for the art journaling classes you've had in recent months to inspire and give confidence to those of us who think we can't draw!"
"I read 'Star Pupil' with my cousins, 'Lola reads to Leo' and 'Curiosity the story of a Mars Rover'. And I'm continuing these books: 'Ponyville Mysteries', 'Spirit of the forest' and 'Pet records'. I was super excited when I saw this. I even told my friends to take this challenge."

"Our kindergartener and second grader had silent reading time each day. He enjoyed reading BOB books and My daughter read a chapter book series about a mermaid. My husband and I both read Obama's new book and discussed. Our family REALLY enjoyed the challenge. Thank you for doing this!"


"I enjoyed reading grab and go books with my mommy and daddy, we read two books every day. I have perfected my sight words and enjoy reading some words in a sentence. My mommy borrows a lot of current events books from the library which helps me learn about all the cultures, festivals, and news. We are so thankful for the library's grab-and-go program besides this winter challenge as it has helped us read so many varieties of books while staying home. Having access to many library books during this entire pandemic has helped us develop the habit of reading more and now we thoroughly enjoy reading daily.  "
Did you participate in the Winter Challenge? Share your experience with us in the comments below! And don't forget to keep an eye on our website in June when we'll launch our Summer Learning Challenge!