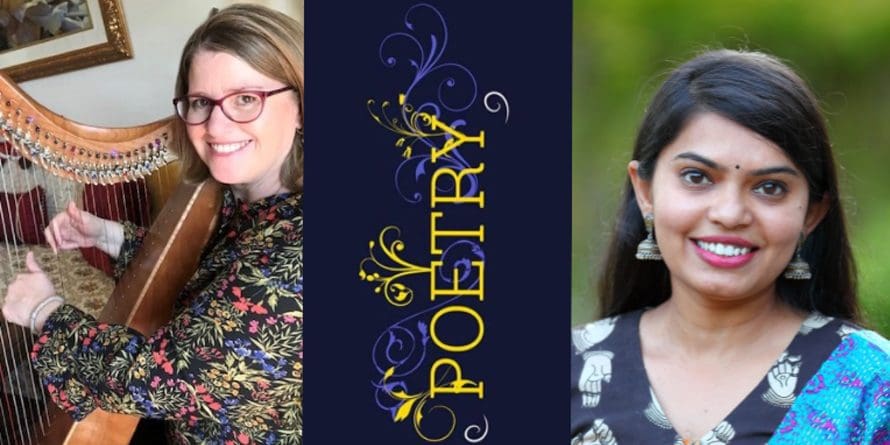 We understand the great value of the arts and of creative expression in our communities, and Open Mic Nights have been an important space for this community building to take place among our patrons. Sharing experiences through art in a collaborative and inclusive space can foster ties to one another and provide healing, strength, and confidence in oneself. Beginning on October 19 at 7:00 PM, we will resume hosting regular Open Mics on the third Tuesday of every month in collaboration with Belmont's newest Poet Laureate, Monica Korde. Learn more about this virtual event, and register now, opens a new window!
What Is an Open Mic?
So glad you asked! Can you imagine a world without music, films, paintings, sculptures, or literature? In October, National Arts & Humanities Month (NAHM), a coast-to-coast celebration across the United States, encourages us to explore the beauty and culture around us, to reflect on the many ways in which the artistic world inspires us and contributes to the making of an empathetic and loving society.
San Mateo County Libraries welcome you to "Love the Arts," the theme honoring the NAHM. Featured Artist, Eithne Pardini, a genius musician and local gem joins this evening on her harp. Her music will be paired with theme-based poems read by the host & new Poet Laureate of Belmont, Monica Korde.
This performance will be followed by Open Mic, where we'll open up the floor for you to share a poem of your own or by a favorite poet. Or just pour a cup of tea and listen in. We welcome friends in poetry from around the world, so please share!
About Belmont's New Poet Laureate
Monica Korde is the newly appointed and fourth Poet Laureate of Belmont. Born and raised in the city of Ahmedabad, India, she is a poet and former educator. She has a Master's in English and a Diploma in French Language. Her poetry has appeared online in The New Verse News, Filoli Winter Haiku, San Francisco Public Library's Poem-of-the-Day and in the Speak Poetry anthology. Her readings have appeared on KKUP Radio and many other social media platforms, including featured readings for the San Mateo County Libraries and for bay area poetry groups. Her poems have received recognition and prizes in county-held poetry events. She was also a co-judge for the first Annual WordSlam Youth Poetry Contest and has worked with local poets to organize events that amplify youth voices. She has been working as a community volunteer for her local library for many years and has been co-hosting Poets Night, a bi-monthly open mic.