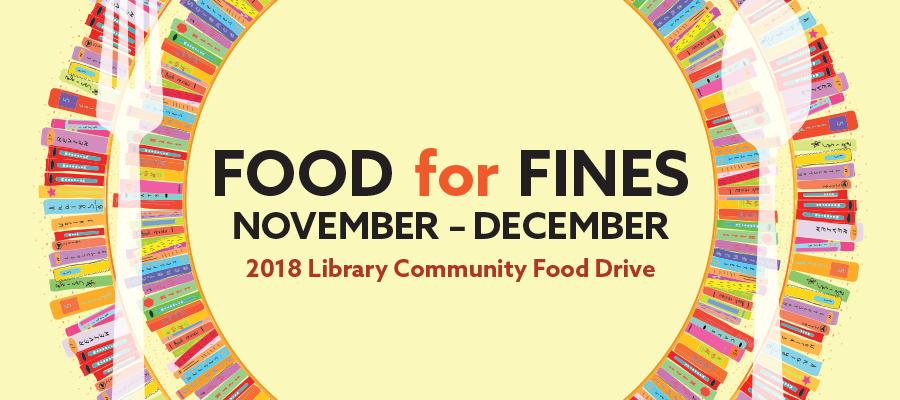 Forget to return that library book or DVD on time? Now is your chance to clear your overdue fines while helping those in need this holiday season. Join San Mateo County Libraries in the fight against hunger by participating in our Food for Fines program, a community food drive. Donating just one unit of food will waive ALL fines from past due items for one account.
This year's program begins on Thursday, November 1 and runs through Monday, December 31. Once again, we are partnering with Second Harvest Food Bankopens a new window (SHFB), the County of San Mateoopens a new window, and other libraries in the Peninsula to expand this great cause across the County. Look for donation barrels at all the participating libraries listed below:
SAN MATEO COUNTY LIBRARIES: Atherton, Belmont, Brisbane, East Palo Alto, Foster City, Half Moon Bay, Millbrae, Pacifica Sanchez, Pacifica Sharp Park, Portola Valley, San Carlos, Woodside
BURLINGAME PUBLIC LIBRARY: Burlingameopens a new window, Eastonopens a new window
COLLEGE LIBRARIES: Cañada College Libraryopens a new window, College of San Mateo Libraryopens a new window, Skyline College Libraryopens a new window
DALY CITY PUBLIC LIBRARY: Bayshoreopens a new window, John Dalyopens a new window, Serramonteopens a new window, Westlakeopens a new window
REDWOOD CITY PUBLIC LIBRARY: Redwood City Downtownopens a new window, Fair Oaksopens a new window, Schabergopens a new window, Redwood Shoresopens a new window
SAN BRUNO PUBLIC LIBRARY: Main Libraryopens a new window
SAN MATEO PUBLIC LIBRARY: San Mateo City Downtown Mainopens a new window, Hillsdaleopens a new window, Marinaopens a new window
SOUTH SAN FRANCISCO PUBLIC LIBRARY: Main Libraryopens a new window, Grandopens a new window
A primary goal for Food for Fines is to eliminate barriers to library access while also assisting those who are struggling to put food on the table. Patrons can give to the community and get their library account back in good standing as we close out the 2018 year.
Food must be in store-sealed cans, boxes, or plastic containers within its expiration date. Glass containers, perishable food, or opened containers cannot be accepted. Donations will waive library overdue fines only, not fees for lost or damaged items. Home-made or home-canned items are not accepted.
According to Second Harvest Food Bank, the most needed non-perishable items are:
Tuna & Canned Meat
Peanut Butter
Low-Sodium Canned Soups & Chili
Rice & Dry Beans
No-Sugar Added Canned Fruits
Low-Sodium Canned Vegetables
Granola Bars
Cereal
Last year, participating libraries collected a total of 36,531 pounds of food partnering with Second Harvest Food Bank who distributes more than 65 million pounds of nutritious food to low-income people annually in Santa Clara and San Mateo counties. Most recipients are children and seniors. The millions of pounds of food are provided free to 309 local nonprofit agencies at more than 900 sites, including pantries, soup kitchens, shelters, and after-school programs.
For more information call (650) 574-4842 ext. 227.