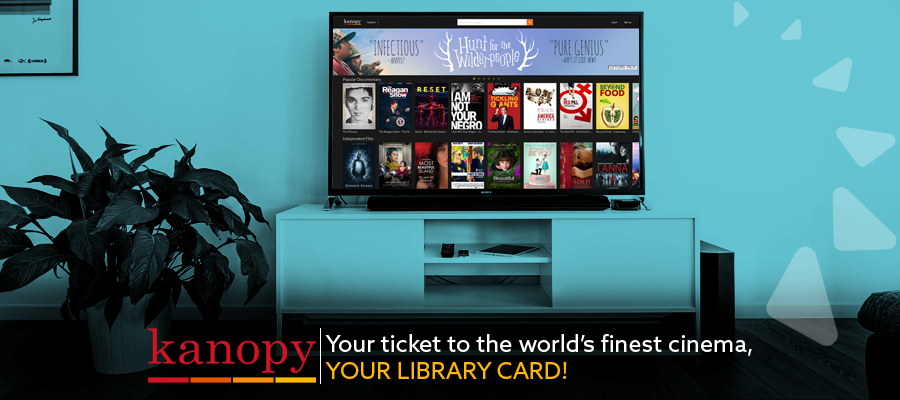 San Mateo County patrons now have access to more than 30,000 films for free through Kanopy, opens a new window! All you need is your library card to watch award-winning documentaries, rare and hard-to-find titles, cinema classics, and movies from around the world.
Kanopy offers a "Netflix-like" experience for streaming movies. You can watch Kanopy movies from any computer, television, or mobile device by downloading the Kanopy app for iOS, opens a new window, Android, opens a new window, Apple TV, opens a new window, Chromecast or Roku, opens a new window. You can stream 10 movies per month and can start watching immediately without any wait time. Like our other digital services, you won't accrue late fees for checking out titles as they will return automatically.
From the Classics to New Documentaries
The collection includes videos from The Criterion Collection, Samuel Goldwyn, The Great Courses, PBS and thousands of independent filmmakers. Kanopy is consistently updating its collection so there are always new videos to explore! Here are just a few of the current selections:
There are even films about San Mateo County! Check out this documentary The Edge of the Wild, opens a new window, which is about the endangered Mission Blue butterfly that inhabits San Bruno Mountain (it is also featured on one of our library cards!).
How Do I Get Started?
You must have a San Mateo County Libraries card that begins with "29041" or a San Mateo Public Library card that begins with "29047."
Setting up an account with Kanopy requires only a few steps:
Go to smcl.org/kanopy

, opens a new window

for "29041" cards and cityofsanmateo.kanopystreaming.com

, opens a new window

for "29047" cards. 
Click the orange "Continue" button.
Click "Sign up" and create an account using one of the following three methods: Facebook, Google, or email address.
Go to your email inbox and look for a message from Kanopy instructing you to verify your email address.
After you have verified your email address, go back to Kanopy and add your 14-digit library card number and PIN.
Download the Kanopy app for your preferred viewing device (iOS

, opens a new window

, Android

, opens a new window

, Apple TV

, opens a new window

, Chromecast or Roku

, opens a new window

).
Happy watching! Tell us in the comments which movie you want to watch first.