Don't let our library closures keep you from connecting with us. Let's meet virtually! This week we're hosting more fun online programs where you can continue to learn new skills, attend storytime, and use our online resources from your computer.
Monday, June 8, 2020
At Home Storytime With Deidre
10:30 AM - 11:00 AM
Who's ready for songs and a story? Enjoy rhymes, signs, and giggles with Deidre and her trusty dog, Hero.
---
Fancy Floats With Ricardo
11:00 AM - 11:30 AM
I wonder how many toys, coins and marbles we can put on our boats before they sink? Let's find out!
---
One Foot Wonders With Alice
1:00 PM - 1:30 PM
Explore standard and nonstandard measurement as you hunt for objects that are one foot long. You'll need paper, pencil or pen, a ruler, string, scissors, and things to measure!
---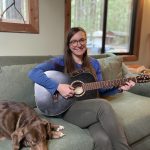 Musical Jamboree With Kayla Marie
3:00 PM - 3:30 PM
Kayla Marie is in the mood for singing, dancing and playing and she hopes you are too! Join her for Musical Jamboree and bring your shaker, scarf and a musical instrument of your choice. Don't forget to download the lyric sheet!
---
Bilingual Spanish/English Storytime With Erica
Cuentos Bilingües en Español/Inglés Con Erica
3:30 PM - 4:00 PM
Join us for bilingual stories about animals and songs the whole family will enjoy in English and Spanish. Children of all ages are welcome.
Acompáñenos y disfrute de cuentos sobre animales y canciones, bilingües en inglés y español que toda la familia disfrutará. Los niños de todas edades son bienvenidos.
Tuesday, June 9, 2020