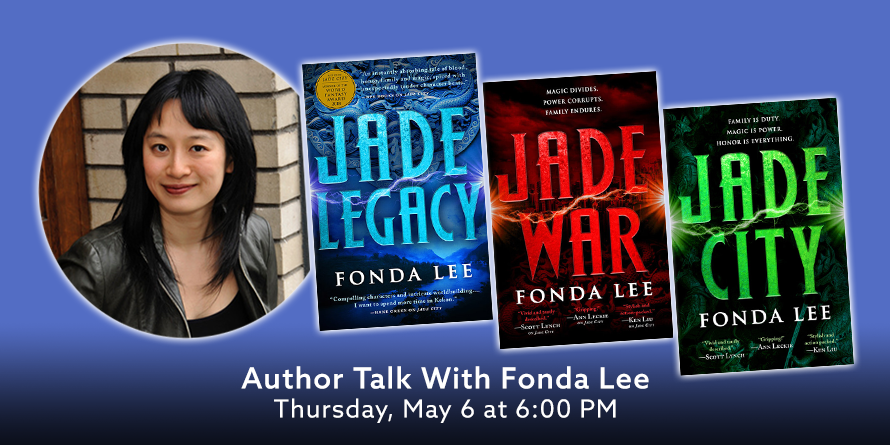 Leap into Fonda Lee's Green Bone saga in an action-packed, diverse Asian-inspired urban fantasy series chock-full of clan blood feuds, vicious politics, and inter-generational family drama! Intrigued? Meet Lee on Thursday, May 6 at 6:00 PM, opens a new window at our next virtual author talk. Register in advance, opens a new window to hear Lee read from her book and discuss writing Jade City, opens a new window, Jade War, opens a new window, and the upcoming Jade Legacy with an audience Q&A to follow.
In this epic story, the Kaul family is a tight-knit crime syndicate that controls the island of Kekon, the only location in the world producing jade. Once granted only to Green Bone clan warriors, jade gives the wearer superhuman abilities if they have the proper heritage and training. Kekon, now a bustling post-war metropolis, is no longer a home to warriors; instead, Green Bone clans protect their neighborhoods, construction, and commercial projects. When a bloody clan war breaks out between the Kauls and their greatest rivals, Kekon's fate will be determined by the victor. Jade War continues the Kaul's story as global and international politics invade the island nation. The finale Jade Legacy will drop in September!
Browse our catalog, opens a new window to place a hold on Jade City or Jade War. Jade City is also available as an eAudiobook via Overdrive. Free copies of Jade City will be available at all our locations, opens a new window while supplies last during Express Service hours from Thursday, April 22 to Saturday, April 24. You can also purchase signed copies of Jade City and Jade War through the Foundation for San Mateo County Libraries, opens a new window.
Praise for the Green Bone Saga
Jade City won the World Fantasy and Aurora Awards and was a finalist for the Nebula, Locus, Audie, and Sunburst Awards. Jade War also secured a finalist spot for the Aurora and Locus Awards.
"Stylish and action-packed, full of ambitious families and guilt-ridden loves, Jade City is an epic drama reminiscent of the best classic Hong Kong gangster films but set in a fantasy metropolis so gritty and well-imagined that you'll forget you're reading a book." ― Ken Liu, The Grace of Kings.
"A fast-hitting, tantalizing, sometimes unsettling, and always insightful book with a wealth of power at its core. A modern-day epic". ― Fran Wilde, Riverland.
"Sweeping and intimate; a magical, almost operatic crime and family drama." — NPR.
"Fast cars, brilliant characters, and gangster kung-fu! Lee's written the postcolonial Godfather hiding under the surface of the Avatar: the Last Airbender universe ― and it's a fantastic read." ― Max Gladstone, This is How You Lose the Time War.
About the Author
Fonda Lee, opens a new window is an award-winning author of science fiction and fantasy, whose novels include the epic urban fantasy Green Bone saga and the acclaimed science fiction novels Exo, Cross Fire, and Zeroboxer. Fonda is a former corporate strategist and black belt martial artist who loves action movies.