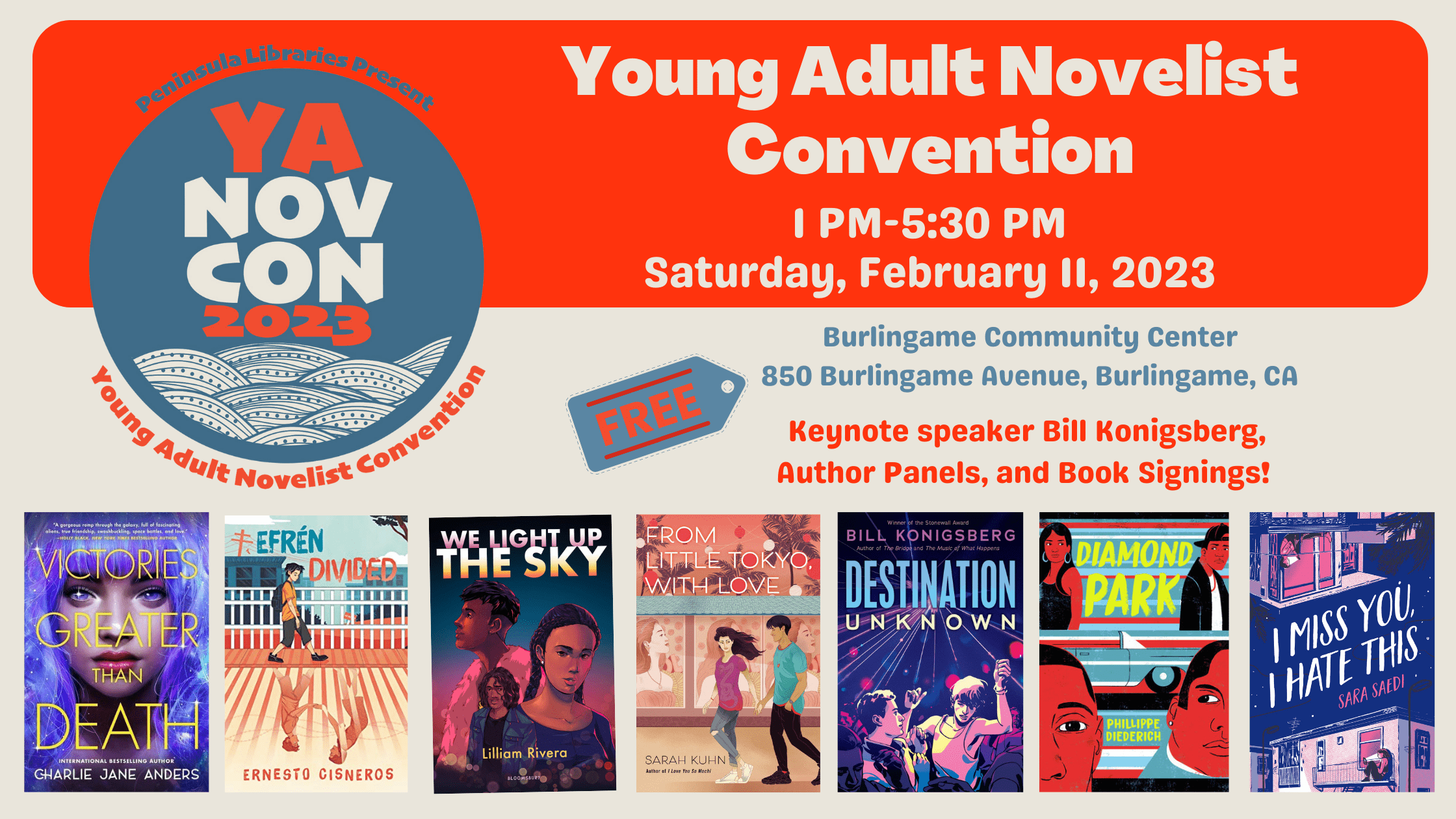 Panel Discussion & Author Book Signing
The Peninsula Libraries' 8th annual Young Adult Novelists' Convention (YANovCon) will take place Saturday, February 11, 2023, at the Burlingame Community Center, opens a new window. YANovCon is your exclusive connection to some of today's top authors. This free half-day celebration will include panel discussions and book signings with notable and new YA novelists.
Anticipated Schedule:
Intro/Welcome: 1:00 PM - 1:15 PM
Keynote Address with Bill Konigsberg: 1:15 PM – 1:50 PM
Session 1: 2:00 PM – 2:50 PM
Topic: The Role of Family in Shaping Identity
Panelists: James Brandon, Sarah Kuhn, Naz Kutub, Sara Saedi
Session 2: 3:00 PM - 3:50 PM
Topic: Becoming Unsheltered: The Imperfections of Family
Panelists: Ernesto Cisneros, Sally Engelfried, and Mae Respicio
Book Signing with Middle Grade Authors: 4:00 PM – 4:30 PM
Session 3: 4:00 PM - 4:50 PM
Topic: Beyond the Traditional Family
Panelists: Charlie Jane Anders, Phillippe Diederich, Alexa Donne, Lilliam Rivera
Book Signing with All Authors: 5:00 PM - 5:30 PM
We've partnered with Books Inc., opens a new window to have books available for purchase at the event.
What Can You Do to Get Ready for YANovCon?