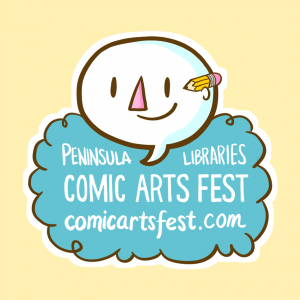 San Mateo County Libraries is bringing back Comic Arts Fest for February 2018! We're celebrating the importance of comics, both as an art form and as valid literature, and enabling aspiring artists and readers of all ages through author visits, workshops, and comics-related programs.
This year, the Fest is expanding to include Burlingame Library, Daly City Library, Menlo Park Library, Redwood City Library, San Bruno Library, San Mateo Library, and South San Francisco Library.
We're also adding a one-day Small Press Comics Expo to the Fest. This will be an opportunity to meet local artists, purchase comics and original artwork, and attend quality comics workshops. If you're a comic artist/author and you're interested in applying for a table at our Small Press Comics Expo, please apply with this online form.
Email Debbie Huey or Jenna Varden if you have any questions.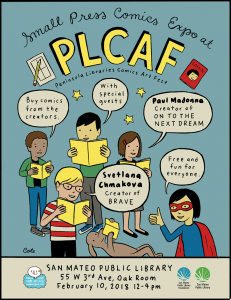 Our tentative list of confirmed guests is listed below. Check back for more updates on events, authors and artists to come!
"The San Mateo County Libraries' COMIC ARTS FEST is the best Bay Area comics event/show, which has a wide-variety of guests and programming that spans a full month and makes it easier for fans to savor all the offerings of the fest at different library locations. I hope the fest grows and epitomizes the kind of comics fest that would make the bay area proud and attract comics fans from outside the area too!"

- Chris
Archive of Comic Arts Fest