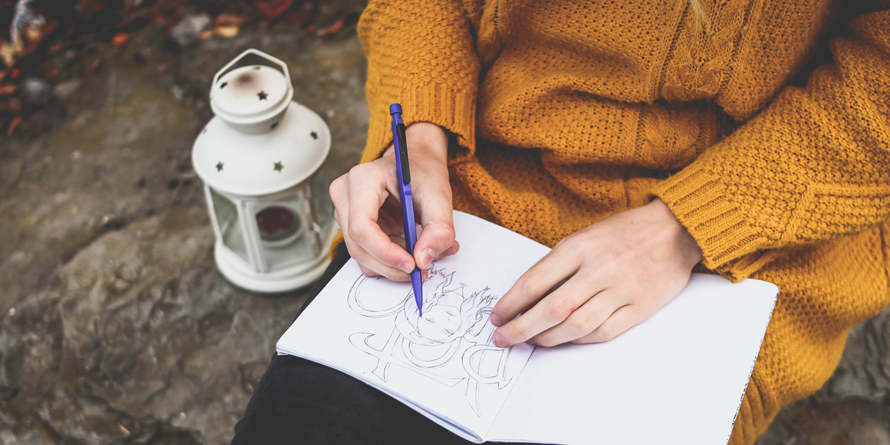 Creating a new drawing every day might sound daunting. But this art challenge is taken on by artists worldwide year after year.
October is a particularly popular month for community art challenges, all open to everyone of any age and skill level. For some, the attraction is having the discipline to draw every day; for others, it's using a different set of art tools than usual. Moreover, most participants enjoy seeing the wide range of inspiration sparked by so many artists pulling from the same list of prompts and sharing their unique interpretation. Best of all, the only thing you need to participate is a pen and paper!
Inktober
One community challenge to rise in popularity recently is Inktober, opens a new window. The goal is to create 31 drawings with ink during October, with one new prompt given per day, though the type of "ink" is limited only by how you choose to define it. From ballpoint pens, to traditional dip pens and bottled inks, to paints or markers, or even digital inking, there are many tricks and tools to expand your artistry and play with materials you don't often use. After all, inks can be intimidating for their permanence, but spontaneity and imperfections are exactly what this challenge seeks to embrace. You can follow the official prompt list, opens a new window, borrow ideas from someone else, or even create your own!
Even More Drawing Challenges
If you're looking to challenge yourself more broadly, then Drawtober, opens a new window or Artober, opens a new window may be for you. (Most of these challenges have punning names). Artober is similar to Inktober, offering a series of daily random word prompts to inspire you, with less emphasis on limiting yourself to some variation of ink. Drawtober, meanwhile, offers six prompts throughout October, allowing you to take your time with each while still encouraging you to produce new works at a consistent pace.
Witchtober, opens a new window and Spooktober, opens a new window are both worth looking at if you want prompts to spark some good old-fashioned Halloween fun. Witchtober is about creating all types of witches—as you may expect—and Spooktober is another list of word prompts all with a spooky theme.
OCtober, opens a new window (also known as OC_tober, opens a new window) is about celebrating your original characters (OCs). Instead of following a general list of prompts, you aim to draw something that shows off your original characters from whatever project you'll work on for every day in October! OCs can range from a character you created for a story to a character you use to role play in a tabletop or video game. We'll be celebrating this challenge over on our virtual program, How to Draw Anything, where we'll be showing off some of our fellow staff members' OCs throughout the month! For past How to Draw Anything virtual programs, visit our YouTube playlist, opens a new window.
Finally, Cozytober, opens a new window focuses on finding comfort in your art. Art challenges can be great for giving you the push to create, but not everything needs to be about challenging yourself. Sometimes what's more important is taking time to create art that brings you joy. Maybe it's a medium you love but haven't used in a while, maybe a style of drawing or an old character you're happy to see again; whatever it is, Cozytober is there to remind you what matters most is having fun with what you choose to create.
Art Challenges Year Round
These community art challenges aren't limited to October though. There are plenty more—you can even create your own! Some of my favorites include Huevember, opens a new window where you play with colors through November; MerMay, opens a new window asks you to draw mermaids during May; and Swordtember, opens a new window prompts you to design a sword every day in September.
Interested in learning more on how to draw with ink or otherwise? Here are a few book titles to help you get started!
First Steps Drawing in Pen and Ink

What are some of your favorite ways to create art? Let us know in the comments!