2022 Peninsula Libraries Comic Arts Fest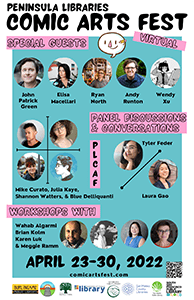 The Peninsula Libraries Comic Arts Fest is returning in April 2022. Join us for a virtual week of festivities from April 23 to April 30. We're celebrating the importance of comics, both as an art form and as valid literature, and enabling aspiring artists and readers of all ages through author visits, workshops, panel discussions and other comics-related programs.
Participating libraries include Burlingame Public Library, opens a new window, Daly City Public Library, opens a new window, Menlo Park Library, opens a new window, Redwood City Public Library, opens a new window, San Bruno Public Library, opens a new window, San Mateo County Libraries, San Mateo Public Library, opens a new window and South San Francisco Public Library, opens a new window.
PLCAF has held engaging comics events since 2015, hosting many great well-established authors and budding debut authors. We've also held Small Press Comics Expos highlighting local creators and workshops for writing and illustrating. While the pandemic cut our celebration short in 2020 and 2021, we're excited to bring events back for our fellow comics fans in 2022. This year our programs are being held virtually so that you can attend from anywhere in the world.
Before attending our Comic Arts Fest, don't forget to check out the work of our 2022 PLCAF authors!

Saturday, April 23, 11:00 AM
Meet Wendy Xu, Author of Tidesong. Tidesong tells the story of a young witch named Sophie who is sent to live with distant relatives as she prepares for her entrance exams to the Royal Magic Academy. Tidesong is a perfect graphic novel for fans of Studio Ghibli.
Wendy Xu is a bestselling, award-nominated Brooklyn-based illustrator and comics artist. She is the creator of the middle-grade fantasy graphic novel Tidesong (2021 from HarperCollins/Quilltree) and co-creator of Mooncakes, a young adult fantasy graphic novel published in 2019 from Oni Press. Her work has been featured on Catapult, Barnes & Noble Sci-fi/Fantasy Blog, and Tor.com, among other places.
Workshops With Illustrators

Meggie Ramm Workshop: Character Creation
Saturday, April 23, 3:00 PM
Learn the basics of creating realistic and unique characters! Students can come with a pre-existing character or no character at all. We will delve into visual and non-visual character design, from personalities, character traits, and crafting story arcs!
More Fun Events

Tuesday, April 26, 4:00 PM
Join us for this exciting virtual event with the Charles Schulz Museum, opens a new window. Take a pictorial journey through Charles M. Schulz's life and career and learn why Peanuts is one of the most popular and influential comic strips ever. There will be a how-to-draw Snoopy workshop at the end.
---
If you have any questions, please email us or sign up for our mailing list below and we'll keep in touch.