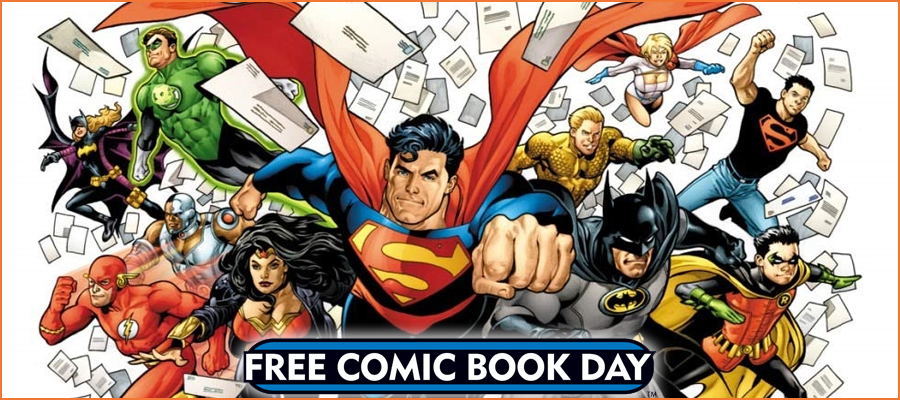 Free Comic Book Dayopens a new window is an annual event founded on the belief that for every person out there, there's a comic book they'll love. Every year, on the first Saturday in May, the industry comes together to give away free comics. This year FCBD happens on Saturday, May 5th, 2018 and features an amazing selection of comic book titles from the industry. Major publishers such as DC Comicsopens a new window, Marvel Comicsopens a new window, Dark Horse Comicsopens a new window, IDW Publishingopens a new window, BOOM! Studiosopens a new window, Dynamite Entertainmentopens a new window, and Image Comicsopens a new window put out free comics for fans to enjoy.
San Mateo County Libraries is proud to join in and offer a selection of free comics (while supplies last). Bring the whole family and celebrate Comic Book Day at your local library. Kids, and grown up kids too, are encouraged to dress up as their favorite comic book character and celebrate the day after Star Wars Dayopens a new window (May the fourth be with you!) and pick up some free comics.
Free Comic Book Day Trivia
Retailer Joe Field of Flying Colors Comics

opens a new window

brainstormed the event in his "Big Picture" column in the August 2001 issue of Comics & Games Retailer magazine

opens a new window

.
The first Free Comic Book Day took place on the opening weekend of Sam Raimi's first Spider-Man movie. It was held on Saturday, May 4, 2002.
This is the 17th annual Free Comic Book Day.
Retailers are selected to form a selection committee and choose a total of 50 different comics to be offered on FCBD.
In its first six years, more than 2000 retailers in more than 30 countries gave away more than 12 million Free Comic Book Day special edition comic books.
eBook Comics Available
Did you know we offer a large collection of eBook comics? They are available from our two digital content providers hooplaopens a new window and OverDriveopens a new window.
What's your favorite comic? Let us know in the comments below.