Tuesday, November 7 is Election Day
In an election, every voice is equally powerful—don't underestimate your vote. Voting is the great equalizer.

- Maya Angelou
Lift Every Voice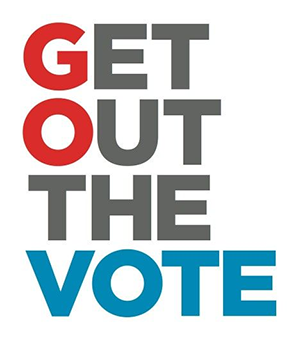 The 2017 United States elections will be held on Tuesday, November 7, 2017. Local elections will take place in thousands of communities on November 7 and affect many important aspects of our communities, including our schools, police, and infrastructure.
Turnout for local elections can be low, with many voices not being heard. With just a day to go, we want to encourage everyone to Get Out The Vote in their communities. Let's reverse the trend of low turnout in local elections!
Don't Miss Out!
If you can't remember where to vote, no problem! You can easily find your polling place, opens a new window or check your registration status, opens a new window online. You can also visit one of our community libraries where library staff will assist you in finding where you can vote.
Need Information?

You have rights! If you forgot to register, learn about same day voter registration, opens a new window. If you encounter problems, get support, opens a new window with the voting process.
Non-partisan voter organizations exist to give you straight talk on the issues. Check out Voter's Edge California, opens a new window to get the facts before you vote.
Election changes are coming to California in 2018! Learn about Voters Choice, opens a new window and the switch to vote by mail next year in San Mateo County.
The United States is the world's oldest continuous democracy, in what ways is the right to vote important to you? Share with us in the comments below.