Most readers harbor little lists of classic literature we just haven't gotten around to yet. I mentally bookmarked Love in the Time of Cholera… fifteen years ago. Why haven't I picked it up? (And where is my copy? Which I am sure I bought… ten years ago.)
If this novel-neglect confession is familiar to you, never fear. Great literature is always there waiting for us. And, as the COVID-19 quarantine keeps the Bay Area at home, this might just be the perfect time to snuggle up with the classics that have been lingering on your "To-Read" list.
Our Classics Collections
With your San Mateo County Libraries card, you have many ways to discover classic eBooks and audiobooks.
Honorable Mention: Project Gutenberg doesn't require your library card, but it's a fantastic free resource full of classic books in the public domain. You can also check out Project Gutenberg's Top 100 if you need help picking your next literary adventure.
Some of the Great Reads Waiting for You
If you're feeling joyfully overwhelmed by the wealth of classics available, why not start with these fantastic novels?
This intricately crafted novel about memory, racism, hauntings, and intergenerational trauma may be Nobel prize-winning author Toni Morrison's masterpiece. Given that her other works include Sula, The Bluest Eye, and Song of Solomon, that's certainly saying something!
Set 18 years after Sethe, the novel's protagonist, escapes Sweet Home plantation in the hopes of protecting her children from slavery, Beloved moves gracefully between characters' consciousnesses, weaving through sense and memory as the past asserts itself in the present. The story's grace, force, and tenderness make it difficult to summarize and impossible to forget.
If Beloved wasn't on your to-read list before, see if it's famous opening line grabs your interest: "124 was spiteful. Full of a baby's venom."
Jane Austen's first published novel follows sisters Elinor and Marianne Dashwood as they adjust to a new home, community, and economic status. At turns as insightful, satirical, and romantic as all of Austen's work, this book reminds us that practical thinking and passionate emotions are both vital to survival.
If you've already devoured this one, you can find Austen's other novels on Hoopla as well. Or, try out one of the more imaginative modern Austen retellings, including this Sense and Sensibility comic and Sense and Sensibility and Sea Monsters.
Speaking of monsters, Mary Shelley changed the game when a night of swapping ghost stories sparked her thrilling, genre-shaping classic.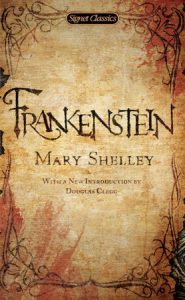 That said, the titular "Frankenstein" refers not to the reanimated corpse but instead his mad scientist creator, obsessed with mastering the forces of life. This dense work of gothic literature is told, in part, by both Victor Frankenstein and his creature. Their two narratives invite readers to question the nature of humanity, and after reading this tale, you might argue that Frankenstein is the monster after all.
If you are interested in these themes, you'll like always enjoy Kazuo Ishiguro's modern classic, Never Let Me Go.
As has recently been repeated too many times to count, William Shakespeare wrote this tragic play while London's theaters were shuttered by the plague.
Today, the story of the mad king and the cruel demands he makes of his three daughters serves a reminder of humanity's co-existing foolishness and beauty. As the writer Emma Smith argues, its call to empathy might just be a healing "narrative vaccine."  
King Lear figures heavily in Emily St. John's beautiful dystopian novel, Station Eleven. As it centers around a devastating pandemic, I recommend this book with caution. But, as it also celebrates survival and the worth of art, I do recommend it.
Nobel prize-winning author Gabriel García Márquez's sweeping account of devotion and mortality demands to be read. So, it's about time to read it!
Do you have a classic to recommend? Or, is there one you can't wait to read? Let us know by leaving a comment below!