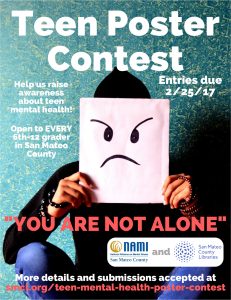 San Mateo County Libraries and the National Alliance on Mental Illness (NAMI) recognize that mental illness affects all of us in one way or another. With 1 in 5 youth experiencing a mental health disorder, we all know someone experiencing difficulties, such as anxiety or depression. It is important to hear these stories and not let the devastating effects of mental illness stay quiet. By sharing these stories we help each other cope and form a connection.
We encourage Art, Science & Health Teachers, Guidance Counselors and Occupational Therapists to use this contest as part of their curriculum. All students who live or go to school in San Mateo County are urged to submit a poster. The winning posters will be displayed at schools and in various avenues to promote teen mental health.
What We're Looking For:
An eye-catching poster design to promote Teen Mental Health Awareness.
A positive message that raises awareness of issues surrounding mental wellness, recovery, hope and stigma reduction.
Original content and creativity.
What You'll Win:
Your poster will be on display in multiple libraries, schools, and other participating locations.
Up to $70 worth of merchandise from Wear Your Label.
Contest Information & Rules:
Posters must have a positive visual and verbal message and illustrate this year's theme: "You are not alone."
Posters must also include the contact information of at least one support network for teens suffering from mental health issues. Some recommendations include:

The StarVista Crisis Hotline (24/7)
Call (650) 579-0350 or (800) 273-TALK(8255)
Text "START" to 741741
Support for teens from teens at the 24-Hour Youth Hotline (650) 579-0353
Mental Health Hotlines for LGBT Teens
LGBT National Youth Talkline: (800) 246-PRIDE (7743)
Trevor Lifeline: (866) 488-7386

Any medium may be used, (crayon, paint, pencil, marker, photographs, etc.).
Posters will be printed 11" x 17".
All images and content must be your own, original work, or free from copyright restrictions.
Open to all Public, Private and Homeschooled students in grades 6 - 12 who live or go to school in San Mateo County. Only one entry per person.
Entry Deadline: Midnight, February 25th, 2017. You may submit your poster below or in person at any participating library branch.