March 9 - April 16, 2017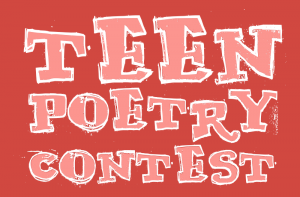 In honor of National Poetry Month, the Half Moon Bay Library is holding a poetry contest for teens within the Coastside area.
Show us your creative side. Let your imagination soar! Create an original poem in any poetry style.
Contest Rules:
Open to people age 12-19 who live within the Coastside area served by Half Moon Bay Library.
Entry must be original work – all forms of poetry will be accepted.
One entry per person. Individually authored poems only. No group efforts, please.
Maximum length: two typed pages. Please submit poem on 8.5" x 11" paper or online.
All poems must be typed. Untyped entries will not be judged.
Poem may be English, Spanish, or bilingual (both original and translation must be by the same teen poet).
Entry form must be attached to poem; original poem will not be returned.
Entries must be received between  at Half Moon Bay Library.
Winners will be notified by email, text, or phone.
By submitting a poem to this contest, the author gives the Half Moon Bay Library permission to include the poem in its digital or print Poetry Contest collection.
The Teen Poetry Reading Celebration will be held on May 5, 2017 at 7:00PM at the Half Moon Bay Library.
Prize Info:
1st place: $75
2nd place: $50
Honorable Mention: $25
Librarian's Choice: $25
Last day to submit is Sunday, April 16, 2017 by 5:00pm.
If you have any questions or comments, please contact librarian Karen Choy at (650) 726-2316 ext. 223 or email.
Sponsored by the Friends of the Half Moon Bay Library.