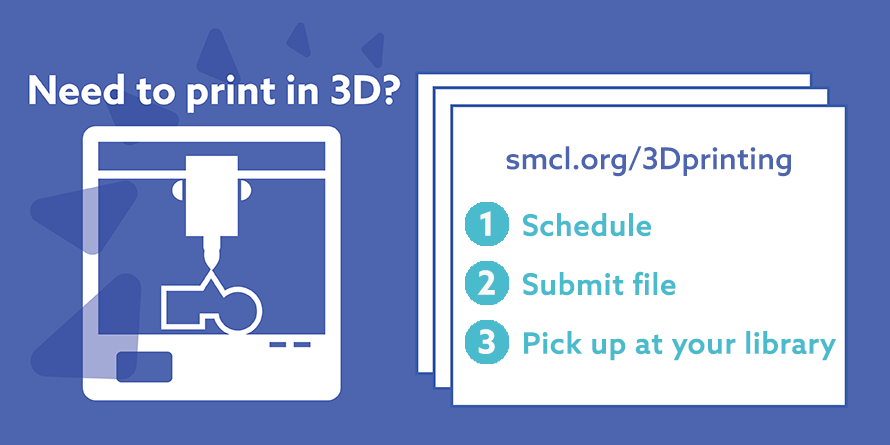 Our library 3D Printers are back online and ready for your next Maker project. It's easier than ever to go from digital file to physical model, just follow these three easy steps.
Select a location below to schedule a 2-hour printing time. Once you select a location, you'll be taken to a list of available equipment. Select an available 3D printer.
Our goal is to have your 3D object ready for Curbside Walk-up at the end of your 2-hour printing time. If there are any issues or the item will be delayed, we will contact you.
When your item is ready, arrive at your selected location during Curbside Walk-up or in-person Library Express and one of our staff members will gladly assist.
Information to Know
---
Requirements to start printing your 3D object:
Must be 13 years or older and live in San Mateo County.
Have a valid library card that begins with "29041."
Have a design file that meets our 3D Printer Online Agreement Guidelines.
Provide us as much information as you can about your 3D object.
3D Printer Specifications:
Ultimaker 2+ printer with extra-wide .8mm nozzles. We've upgraded our 3D printers to print with an extra-wide .8mm nozzle. This means each layer is larger, stronger, and prints complete faster. Some small details under .8mm are not supported. We use PLA plastic. In order to limit handling equipment, we are not supporting custom color selection at this time
Terms and Conditions:
The Library's 3D Printers are not permitted to create material that is prohibited by local, state, or federal law or in violation of intellectual property rights.
Obscene or otherwise inappropriate prints are not allowed.
Use of our equipment does not imply endorsement by San Mateo County Libraries.
The Library has priority use of the equipment and may change or cancel reservations at any time.
The Library reserves the right to place any limitations on use of its resources.
The Library cannot guarantee model quality or stability, confidentiality of designs, or specific delivery times.