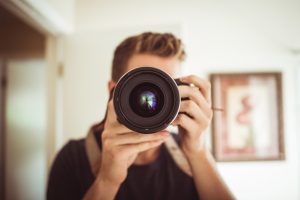 Are you up for a challenge? Can you make a movie in 24 hours?
Enter the 24 Hour Movie Making Challenge for a chance to win awesome prizes!
How to Enter
Starting Friday, July 21st at 5:00 PM pick your genre, prop and line of dialogue from below.
Submit an entry using this Google Form before the deadline.
Guidelines
Film must include the genre, prop, and line of dialog selected.
You must be in 5th-12th grade.
To enter, fill out this Google Form and be sure to include your YouTube or Vimeo link.
Film should be no longer than 5 minutes.
Film must contain appropriate content for teens (G, PG, or PG 13).
If you want your film to be on the library website and DVD, you must be authorized to use any included music. These would be music you've created, Creative Commons-licensed material, and items in the public domain. You can also create your own using Jukedeck. If you want to get even more creative, come to Belmont, San Carlos or Half Moon Bay to make your own music using Garage Band on our iMac! You may not use copyrighted materials without permission.
Teams are limited to 4 members, not including actors.
Prizes will include 1st, 2nd, 3rd place and possible honorable mentions.
Entries are due Saturday, July 22 at 11:59 PM.
The 24 Hour Challenge Screening will be held on Friday, July 28 at 4:00 PM at the Belmont Library. To be eligible to win an award, at least one member must attend and stay the entire duration of the screening. Those not present will be disqualified from any possible award or prize.
If you have any questions, please contact Kayla Marie Figard at (650) 591-8286 ext. 238.
Prizes
1st Place: Four-pack of movie tickets
2nd Place:Two-pack of movie tickets
3rd Place: 1 movie ticket
Honorable Mention: $5 Gift Card to Starbucks or Baskin Robbins
+ certificates and bragging rights!
Genre, Prop and Dialogue
First, pick a genre:
Musical
Adventure
Sci Fi/Fantasy
Western
Horror
Next, pick a prop that will be an active part of your film:
Toothpaste
Wheel
Musical instrument
Paint
Boots
Finally, pick a line of dialogue:
"Why aren't you asleep?"
"I do know the context."
"It's art! You don't know real art!"
"I turned to him quickly."
"Someday, I'll know her face."
Then MAKE YOUR MOVIE!